Category: News
Published: 09 December 2021

Rome: the perfect city for the Christmas holidays
Rome is the ideal city for the Christmas holidays. The Capital, every year celebrates this period with strong folklore. Christmas in Rome is a special experience. If you are planning to visit Rome in December, we recommend that you plan your travels in advance.
In these cases, relying on public transport is not really a great idea. If you hate crowding and chaos, we recommend that you move independently. In these cases, the ideal solution is a rental car.
In relation to this, the Frank Autonoleggio company offers cars of all categories. For car rental at Christmas we have really special offers for you!
What to do in Rome in December 2021
Your trip to Rome for Christmas will surely be full of events to participate in and places to visit. Here are some of the activities not to be missed in Rome in December 2021.
Visit the world-famous Christmas tree: the famous tree in Piazza Venezia has become a sought-after attraction due to its grandeur. The fir reaches 23 meters in height and is decorated with truly unique lighting. The LEDs that embellish it are about 100 thousand and the decorations about 800! A show of lights and colors to be admired intensely.
Via del Corso and the beautiful lights: Via del Corso is one of the best known streets in Rome, especially for shopping lovers! Here the shops and the beautiful decorated shop windows are enhanced even more thanks to the beautiful lights. Taking a walk in this area will give you a unique experience. It will seem to observe a starry sky thanks to the small flashing lights present in every corner. A special section is dedicated to the little ones. In fact, the lights in via dei Condotti represent the most famous cartoon characters among children!
Nativity scene in St. Peter's Square: the nativity scene in St. Peter's Square is a sight to behold. The composition is organized in a very detailed way. The 23 characters that compose it are built entirely of natural height wood. The components of the nativity scene represent ancient characters and crafts typical of Rome.
The Christmas markets in Rome
Taking a walk to enjoy the beautiful Christmas markets in Rome is an essential ritual. The most popular Christmas markets within the capital are those located in Piazza Navona and Piazza Mazzini. Here you will find not only themed objects and small gifts but also typical gastronomic specialties of the area.
For family trips, a tip is not to forget one of the most loved places by children: the house of Santa Claus. Go together in via Tenuta del Cavaliere and here you will find many sweets and delights to taste directly from Santa's pastry chef elves!
Ice-skating
During Christmas, the city of Rome becomes full of activity. A tour in the beautiful historic center will allow you to appreciate every corner of the metropolis. It must also be said that in addition to the wonderful walks through the streets of Rome, another very popular activity is ice skating.
In Rome, several skating rinks are built during Christmas. The most popular is the one located in the Auditorium at Via Flaminia which allows the fun of young and old thanks to the rental of beautiful skates.
Getting around Rome by car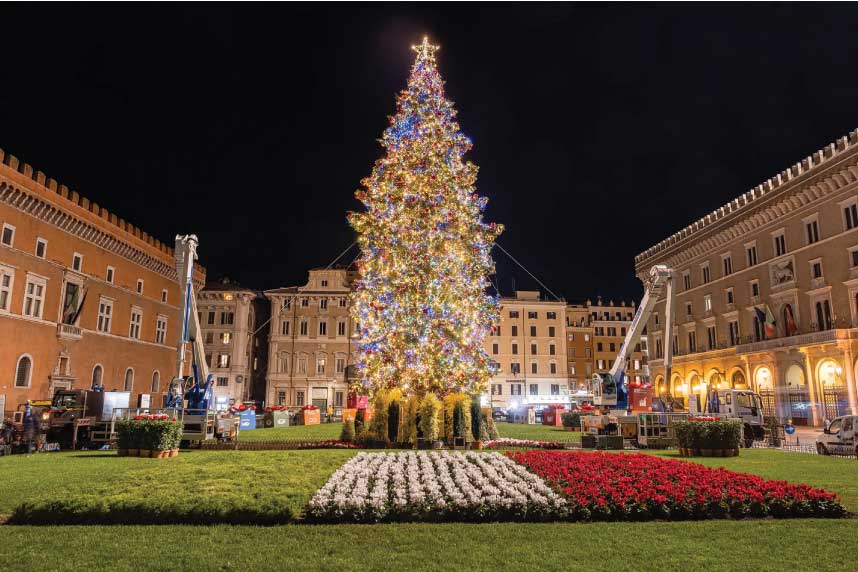 From December to January 6, mobility within the capital undergoes some changes. The timetables of trains, buses and subways undergo changes, the general transport networks are increased.
The tourists who go to Rome in this period are really many. To get around without difficulty, we recommend that you rent a car.
Car rental in Rome is a very convenient solution in these cases. Frank Car Rental allows you to collect your car directly at Rome Fiumicino airport.
As soon as you land, all you have to do is contact us. We will immediately deliver your rental car and you can move wherever you want to reach the center of Rome or its surroundings.
Within Rome we have multiple car collection and delivery points such as those located in Via della Bufalotta and at Binario 24 of the Roma Termini station. The delivery of the cars is active 24 hours a day, and you can also return the car to a different point from where you picked it up. For this, you just need to indicate it when booking online.
Rome car rental without credit card
Are you looking for a car rental in Rome without a credit card? Choose Frank Car Rental and enjoy the capital without complications! With us, renting a car is very simple.
As regards the rental contract, the conditions for using the service are those provided for by law: possession of a valid driving license and reaching the minimum age for rental (21 years).
It is possible to rent by selecting the payment method that is considered most appropriate. We accept debit cards, prepaid cards and not necessarily credit cards. We require a small security deposit on our cars. Thanks to a rental car, getting around Rome will be really practical! Always remember to respect the restricted traffic areas and avoid the busiest hours.
To book, you will need a few clicks. Go to the top of the page. You will find a booking form in which you simply enter the date and place of rental. You will see info and prices below and if you are satisfied, just confirm everything by entering your data.
Book your rental car in advance without a credit card! The demand for our cars is currently very high. Hurry up!
At Christmas, the rates are very low! Take advantage now and make sure a car is available!
Car Hire Frank is an independent company. Our system compares prices of well known car rental companies ensuring you have the option of booking a car at the right price in each place, combined with the constant commitment to meet the needs of our clients.
Locations in Rome
Roma Termini bin. 24: Via G. Giolitti 34, 00185
Phone:+39 06 48913412

Roma Bufalotta: Via della Bufalotta, 127
Phone:+39 06 87134322
Fiumicino Point: Viale Coccia di Morto, 8 - 00054
Tel./Fax: +39 06 48913412
Locations in Florence
Address:Garage Redi - Viale Francesco Redi, 53 - 50144 Drop Point Garage Excelsior - Via Palazzuolo, 94 - 50123
Phone:+39 348 1614903
Locations in Naples
Address:Viale Umberto Maddalena 55A, 80144 Napoli (Aereoporto Capodichino). Parcheggio Via Milano, 104/106 - 80142 (Napoli)
Phone:+39 08118750724

Email:info@autonoleggiofranksrl.it